Loving God, Loving All People, Living in Grace
Hope Presbyterian Church is a welcoming, inclusive, and affirming congregation. Our mission statement to Love God, Love All People, and Live in Grace reflects our desire to be faithful to Jesus and his commandments to love God and to love our neighbors as ourselves. 
What's Happening at Hope?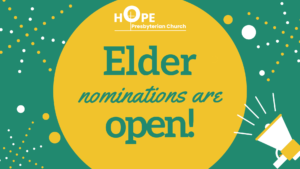 According to the Presbyterian Church (USA), elders are defined as elected members who are ordained to serve as the governing body (session) of a particular congregation. Here at Hope, we wouldn't be able to carry out our mission to Love God, Love All People, and Live in Grace without the
Read More »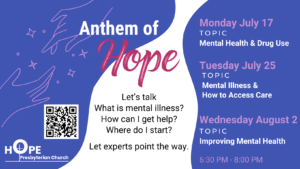 Join us for our 3-week 𝐀𝐧𝐭𝐡𝐞𝐦 𝐨𝐟 𝐇𝐨𝐩𝐞 sermon series beginning Sunday, July 16th at 10am, where we'll be exploring the role of the Church in being educated about and caring for those who struggle with mental health challenges. In addition to our Sunday sermon series, we'll be offering our
Read More »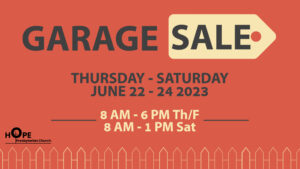 Each year, the Mission Committee at Hope Presbyterian Church organizes and hosts a community garage sale. Donations of gently used and pre-loved items are collected and the sale is opened to all. The funds raised from this event have been used to support vacation Bible school/summer block parties, youth mission
Read More »